Whew! It's been almost 3 weeks since my last post and my apologies for that as my schedule for the past few weeks has been crazily fully booked. I'm not complaining though as it gave me so much pleasures that my life can endure with. From sponsored out-of-town trips (will talk and share my momentous stories soon on this blog, so watch out for it) to coping up with work-related stuff and dealing with the stock market (hooray! Finally, I opened an account in COL Financial and started trading though some stocks that I bought are for long term investment. Hopefully, I can share with you darlings on how to start investing and live the life having financial freedom while enjoying the way you envisioned. Mine, probably retiring on or before age of 35 and start living the life I always dream of – traveling the world & being a housewife, ha-ha).

Meanwhile, I still having a separation anxiety from my Labor Day trip in my cerulean paradise. Where the different shades of blue is giving me the best relaxation I ever could ask for. Yeah, I am talking about my favorite paradise in Visayas – Boracay Island. With that said, visiting this beautiful island could also mean trying out new hotels that this island could offer to a holidaymakers like me. I always love to travel in style and comfort which is also deals with a bit of luxury but at the same time affordable. I have nothing against with budget traveling as I am also promoting that to see the wonders of the Philippines and the world but in times that I would like to feel at ease and relax I will always go for comfort and a notch higher when it comes to service.
With that said, I never thought that I could experience Santorini in Boracay. Well, there's one up in the North and East which I haven't visited yet. Thus, when I spent my Labor Day in Boracay to experience LaBoracay and came across Lugar Bonito Hotel I know I shouldn't missed this one on which I was glad I did!
Away from the crowd and party scene of Station 2, Lugar Bonito Hotel is located at Station 1 (just across Obama Grill). This Santorini-inspired hotel and named after Greek words to reflect its elegance is located along the road but with breathtaking ocean view at the roof top. And by far, the best ocean view that I've ever seen on the Island. You might think that it will be far from the white beach because of its location? Don't fret, because it is only less than a minute or two of walking from the hotel to the beach. Yeah, it was that close to the white beach, finer sand, less crowd and restaurants that offers great foods such as Mamita's (the best pork binagoongan and crispy pata), Andok's (for affordable chicken and pork liempo), Jonah's Fruit Shake (must try Choco banana peanut and my new favorite mocha banana peanut) and Obama Grill (they're known for their baby back ribs but haven't try it but I would recommend them for their happy hour – cocktails were as low as P80).
Lugar Bonito Hotel is quite small, it is 4-storey boutique hotel and only has 6 rooms but I am sure that you can indulge in one of their cozy rooms as it inspired by the white villas of Greece. Each room has its unique details that would make you stay and just pamper yourself in the luxury of soft bed, warm sheets and cuddle all-day long with their comfy pillows while watching movies on their 32 inches flat screen installed on the detailed wall (You read it right! The walls are not just painted with white paint, it also has thoughtfully designed partitions.).
We had Kallias room in the second floor which was perfect for two or couple but since I am travelling with the boyfriend and a friend, three was not a crowd though because it has an extra bed on the side that made our stay comfortable and relaxed. They also has family rooms perfect for the group of five. So if you are going to visit Boracay anytime soon, I would suggest that it is better to book your room in advance as it is fully booked most of the time. Anyways, I'll let these photos to talk its wonders! Keep on reading, darlings!
One of the two queen-sized bed in Family room
How cute the restroom tiles are? Well, as I've mentioned, Lugar Bonito Hotel is into details!
hi there white comforts! the pillows are more than enough to give us superb stay!
Can you feel the Greece? This is one of the lamps installed in the hallway and stairs.
towels have also personalized touch.
Experience Santorini in Boracay - Lugar Bonito Hotel!
view from the roof top.
yours truly with Lugar Bonito Hotel owner Ms. Chiqui and my friend Yani.
how about breakfast with view like this? Stunningly beautiful!
perfect vacation indeed!
infinity and beyond!
it is in the details!
bar counter
and this sun-shaped mirror deserves a selfie
even the stairs has its unique character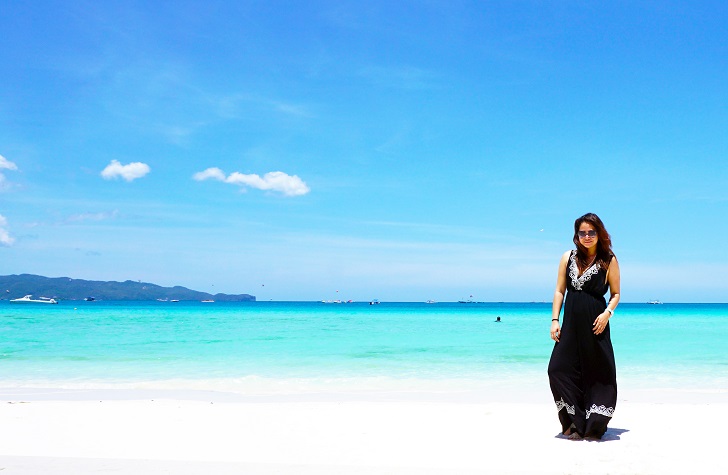 the white beach, OOTD!
the chair that fits for a queen.. err.. goddess!
perfect for couple.
Lugar Bonito Hotel at night
another intricate floor design.
headboard!
So, who would've have thought that I was able to experience Santorini in Boracay. I'm glad that there's a Lugar Bonito Hotel that brought and let us feel the Greece in Boracay. Hmmm… hitting two birds in one stone, right?
Lugar Bonito Hotel – Boracay
Station 1 Balabag, Boracay Island,
Malay, Aklan 5608 Philippines
Landline: +63 36 288 1247 (Boracay Office) | +63 2 475 6827 (Manila Office)
Mobile: +63 998 995 3699 (Smart) | +63 917 327 3970 (Globe)
For inquiries, visit their website www.lugarbonitohotel.com or send an email at info@lugarbonitohotel.com. You may also visit the following accounts for more details:
Instagram: @lugarbonitoboracay
------------------------------------------------------
---
---